Press release
NODA15, the second Nordic Conference for Data Journalism, takes place the last weekend of January. The first conference attracted 235 participants in Stockholm in november 2013, and this winters edition is located to Ålesund, Norway.
The conference is a meeting place for everyone interested in the revival of journalistic methods and presentations through new digital tools. This makes it relevant both for students, journalists, tech-people, web-developers and designers.
The conference initiative is headed by the innovation cluster NxtMedia, together with partners Sunnmørsposten, Adresseavisen, Bergens Tidende, NCE Media Bergen, NONA, Volda University College, Ålesund University College, Södertörn University and University of Jyväskylä i Finland.
The two day program 30.-31.1 2015 will have an exciting line-up, completed in the next weeks. Among the first confirmed headliners are names like like Aron Pilhofer (the Guardian, previously the New York Times), Jens Finnäs (Journalism ++), Esa Mäkinen (Helsingin Sanomat), Francesca Panetta (The Guardian), Anders Bergmann Nielsen (Ekstrabladet, Denmark) and many others. The conference is also conducting the Nordic Data Journalism Awards , debuting last year with some 30 entries from leading Nordic news rooms.
– We want this to be a weekend of inspiration for everyone interested in developing digital quality journalism, says chief editor of Sunnmørsposten, Hanna Relling Berg. Sunnmørsposten are hosting the Conference, and have received several awards the last couple of years for outstanding work in data journalism.
NODA15 in Ålesund will also organize a research symposium on digital journalism, in cooperation with «Network for media and design» within the research network UH Nett Vest. Both researchers and practitioners are invited to present scientific entries.
– The Media Industry is in the middle of dramatic changes, but at the same time there are fantastic new opportunities in digital tools and new angles. The mission for NxtMedia is to stimulate innovation through connecting media, technology, education and research, and data journalism is one of the most exciting areas in the whole industry, says project manager Trond I. Hovland.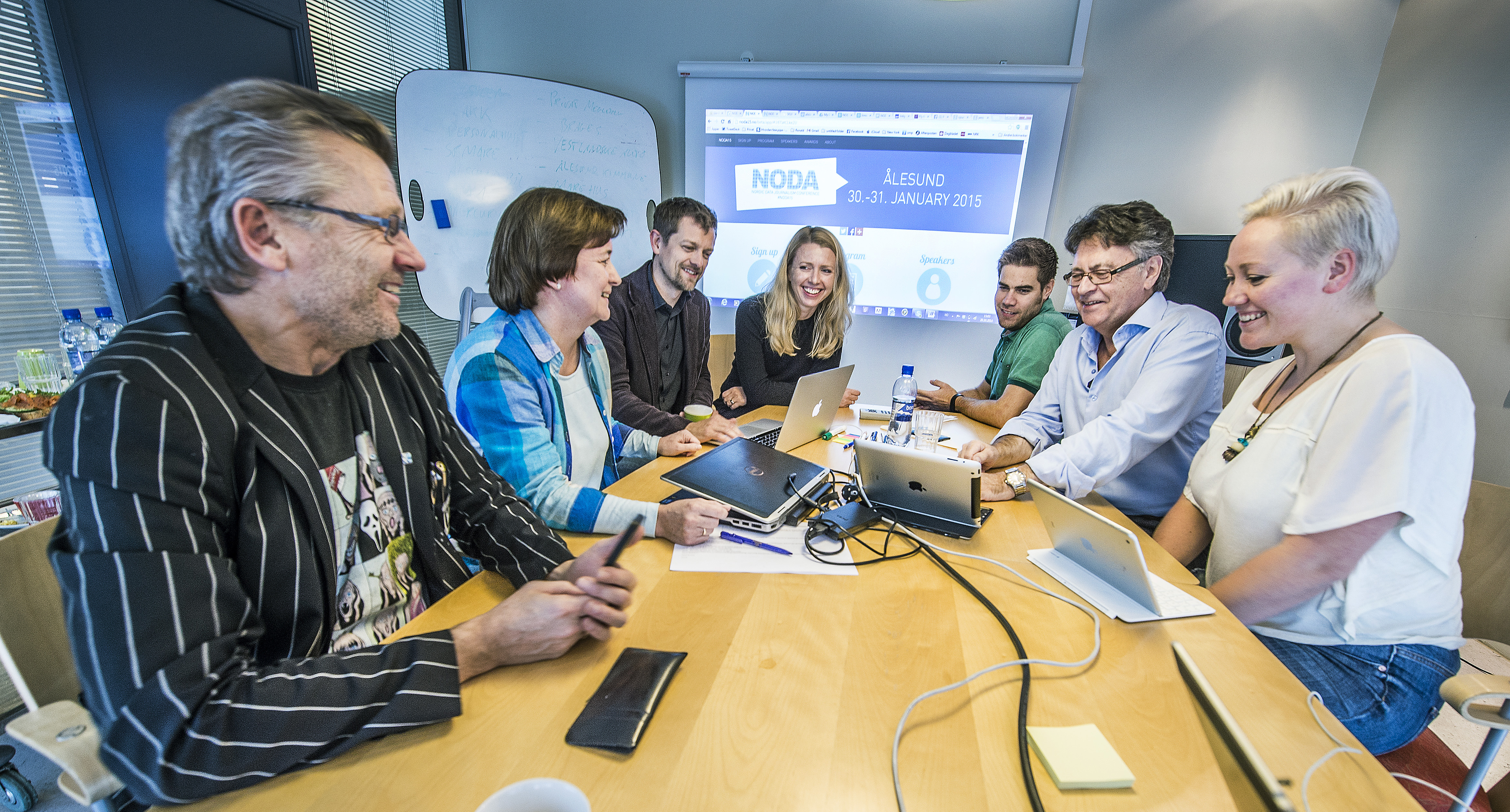 The NODA-comittee in action in Ålesund. From the left: Trond I. Hovland, NxtMedia, Hanna Relling Berg, Sunnmørsposten, Rune Smistad NCE Media Bergen, Tove B. Knutsen, Bergens Tidende, Eirik Meling, Jan Ove Steffensen og Liv-Jorunn Håker Ottesen, all Sunnmørsposten.